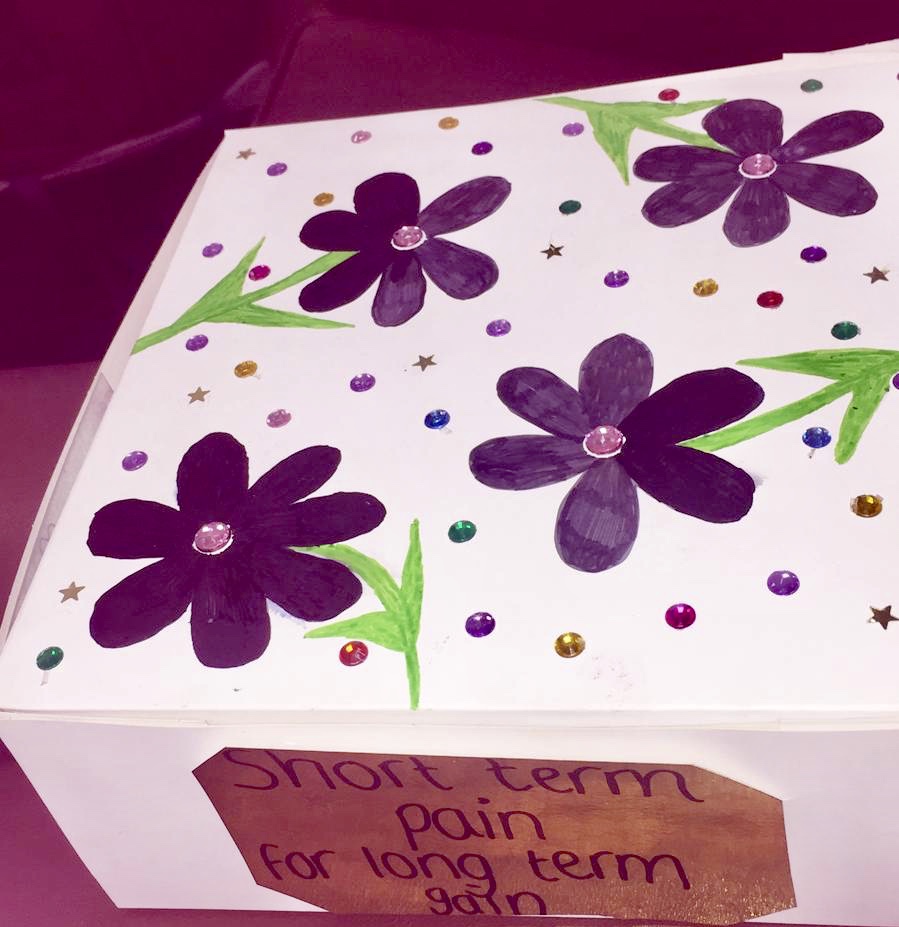 Day 15 & 16 of Therapy
Day 15
It's been a tough day. I had a review again because apparently I wasn't myself….. do they expect me to be bloody happy every day?
I had to go therapy on a Thursday to go to a meeting at the clinic. What a waste of time really because after I finish at the day hospital my care stops until April.  hmmm okay the,n I keep telling them I don't need it, I'm happy without it. Yes I've met some great people and some need more help than others and trust me I'm not one of them. As usual my driver picked me up, but now I always get a text off the client in the car. He's amazing he really is, he gives me a gift every time he sees me. Today he brought me chocolate. And he made me a decent cup of coffee with our coffee that no one else has may I add.
Today we did anger management, hmm I don't get angry really so I just sat there and didn't say anything! That group was definitely not for me !
Luke (not his real name) does me some pictures, bless him, colours them in and gives them me to put in my wall. We have a laugh and giggle but this is a place I don't belong anymore so sometimes it just doesn't feel useful at all. Sometimes it feels like just filling time, rather than constructive therapy as such.
Day 16
Good old Friday morning!! We always look forward to a Friday. Because we know in s Friday it's literally a chilled day at therapy drama.
Driver turns up with Luke (not real name, remember) and he's brought me hot chocolate and a cake – omg he's literally got my heart ❣ If anyone knows how to cheer me up it's the driver and Luke!!! They know hot chocolate from Greggs is my all time favourite.
That's a very good start to the day !!
Traffic was horrendous hated it stuck in traffic most the way.  Got there and me and Luke was the first ones there. I usually have a coffee when I get there but not today hot chocolate was in my hand of course.
Toast for breakfast err soggy cold toast no thanks !! Think I'll pass
I tried relaxation today omg I want a bean bag !! There so comfy, I've always wanted a bean bag but they were defo my thing. I fell asleep and had to be woke up, embarrassing to say the least, then we had drama therapy even tho I felt ever so sleepy …. it was actually really good we had to stand in a circle and pretend we were holding a ball. It could be as heavy and big or small as we wanted and we had to chuck it to a person it was actually really fun made me giggle anyway….. Then we had soft teddies, my bad, I whacked someone in the face 😂😂😂 end of therapy I felt a little stress relief.
Lunch time …. now it's always a cooked meal in a Friday. Safe to say I didn't like the way they did spaghetti bolognese. I had to ask for a special one to be made for Luke without onions …. he hates them. But they put peppers in it and my opinion it didn't actually go well.
After an hour lunch we sat there all looking lost. Then it was time for games afternoon what could be worse than Pictionary I cant draw to save my life …… but staff against patients was fantastic, yay patients won of course. Luke didn't take part as he said he wasn't an artist. Well time comes to an end for the weekend all the staff and couple of patients go. 'Have a feb weekend working,' like come on, are they actually taking the piss LOL.
Me and Luke are getting really close, to a point where we always have a phone call at night on a Friday to wish each other a great weekend, so I knew I'd still speak to him when I got home. We have a little routine in the car now he picks me up with the driver on a morning and in the afternoon I'd take him home first then go home myself.
Day 16 feeling fantastic. In a way can't wait to finish, but then in a way gunna miss the company, like what am I going to do with myself when I finish?
Fab day I think well I was told 32 days but now it's down to 22 days so reduced from the original number they said I had to do.
Well 6 days to go people, and it's not as bad as I thought it will be.
A Cohort 4 Woman in Therapy