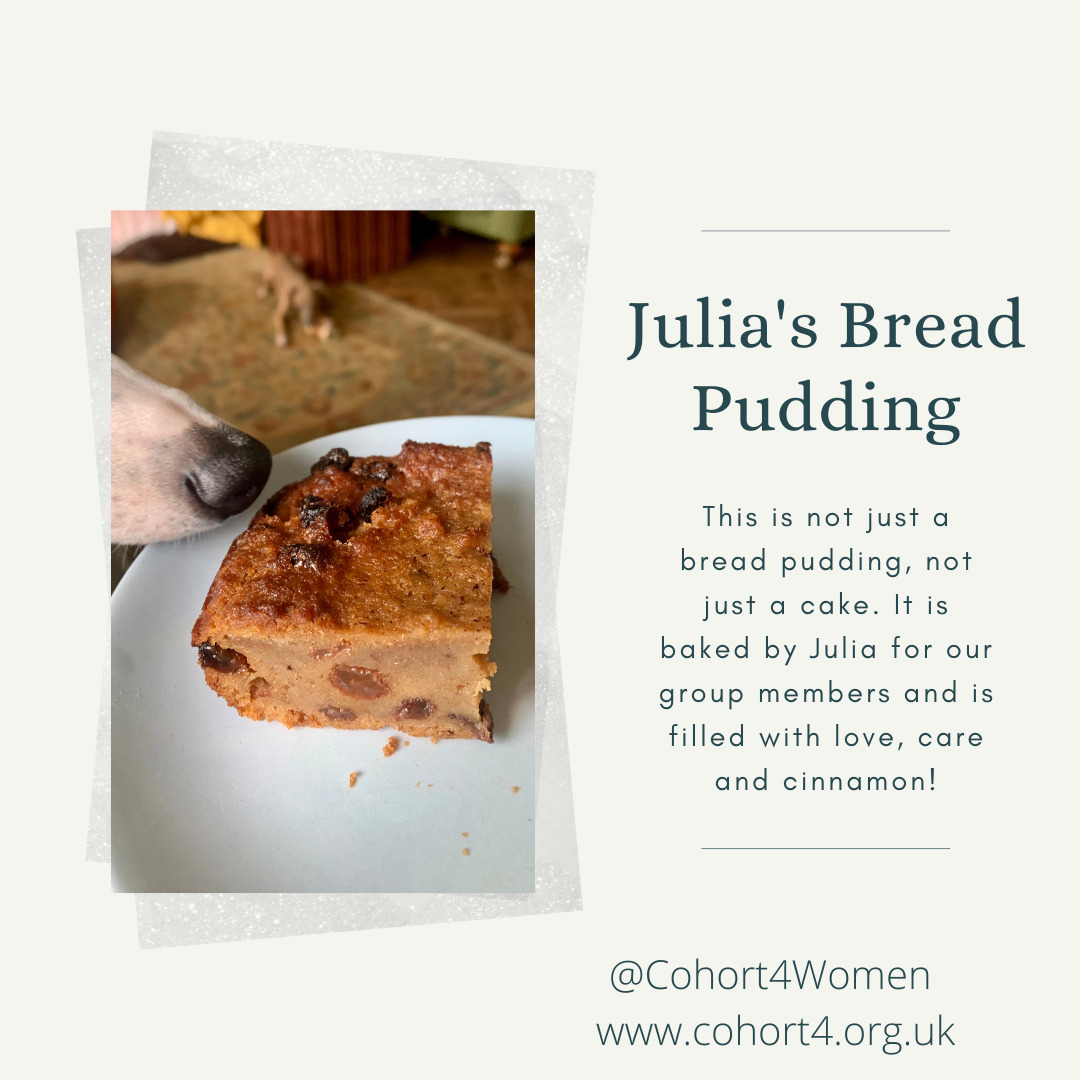 This is not just Bread Pudding, it is so much more
This is not just bread pudding, it is so much more.
I sat eating a slice this afternoon, savouring the deliciousness with a cup of frothy coffee, thinking about Julia and our group of women at Cohort 4. I thought about the ordinariness of a bread pudding and yet each week Julia makes the group this cake from everyday ingredients, including often left over or donated FareShare bread. The comfort it brings is far greater than the sum of its parts. Food historians traced back to the 11th century in Europe, it has been a popular sweet dish in England since the 13th Century, made from scraps of stale bread and known as 'poor man's pudding.' For me this is rich woman's pudding as at Cohort 4 it is made with some very special extra ingredients. It is filled with comfort, care and taste.
Julia has been spending her time with Cohort 4 for some time now, she is always chirpy and bright, caring and enthusiastic as a volunteer with Cohort 4. We met her through Soroptimist International group nearby and they too have been so supportive to our women's group. Julia's bread pudding is filled with more than bread and sultanas. Though I can taste the cinnamon, the recipe is secret. I can feel the care and love that goes into this cake, Julia is adding an essence of herself into the cake. It might sound fanciful, but this afternoon I needed to feel this. I might be the Founding Director of Cohort 4 (I shun the grand titles I might give myself), but I too need reassurance and comfort from the friendship, care and community of our women. We all form part of Cohort 4 and I need the group as much as anyone. Enjoying Julia's home baked bread pudding or hearing the room of laughter from our women's group literally lifts my day.
The ordinary can be extraordinary, just like Julia's bread pudding. We must look out for the specialness of being together during this COVID-19 time, staying safe, but enjoying the comfort of being a group of women. We are a very ordinary group of women across Atherstone, Nuneaton, North Warwickshire and Tamworth, but each of us adds a little something special to 'Women Supporting Women.'
Thank you Julia
Beverley