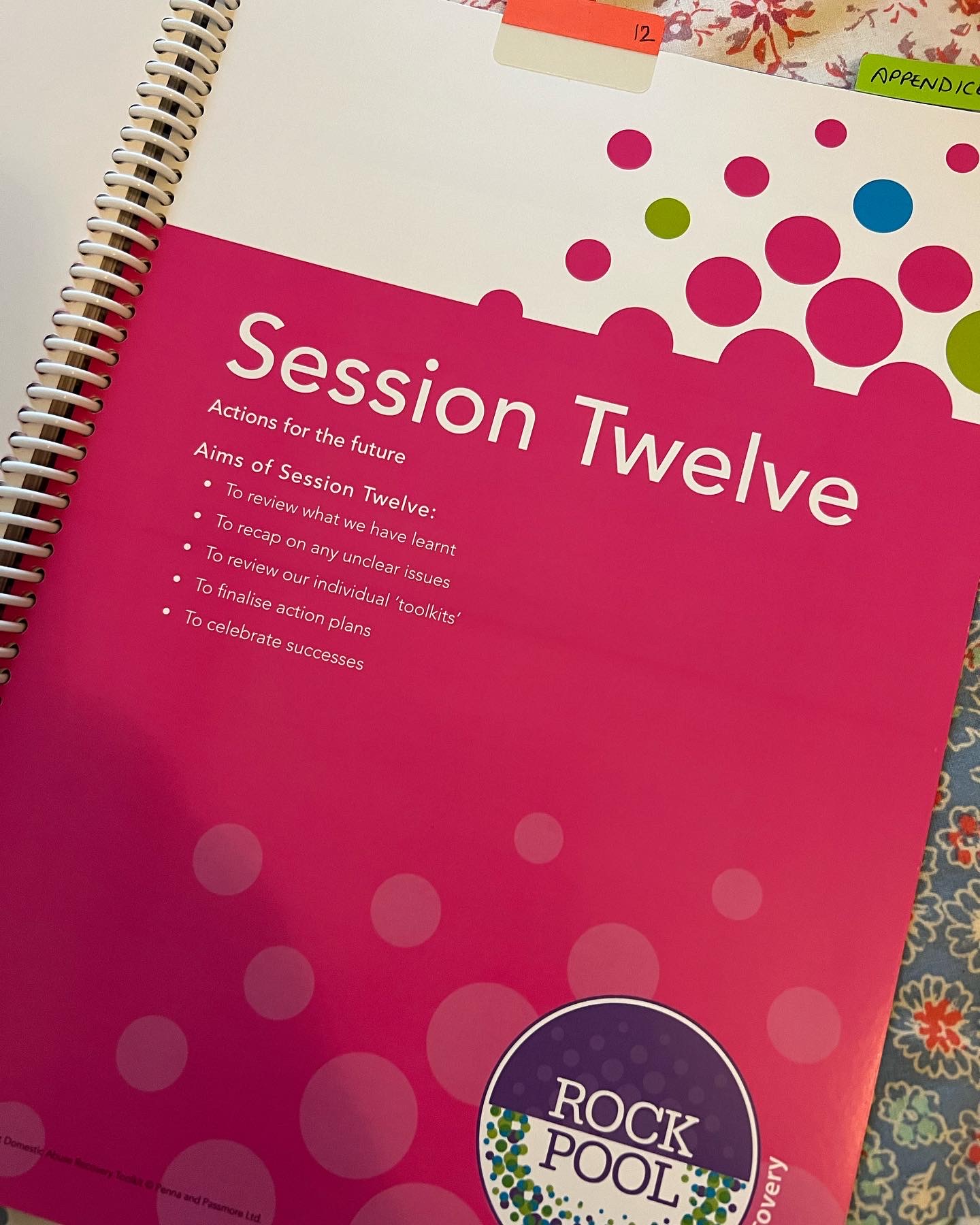 Cohort 4: Recovery Toolkit programme feedback
Warwickshire Police & Crime Commissioner awarded Ministry of Justice funding to Cohort 4 in August 2021
Funding Details: 
Funding received 02/08/2021: £3,013
Funding Objective:  Training for 3 x team members of Cohort 4 to receive accredited training to deliver the Recovery Toolkit to women survivors of domestic abuse in North Warwickshire. This objective has been fully achieved.
Final Update:
4 team members from Cohort 4 have now successfully completed their Recovery Toolkit Training and are able to deliver the programme to women survivors of domestic abuse (3 funded specifically from these funds, one from Cohort 4 reserve funds).
4 Cohort 4 team members are now accredited Recovery Toolkit Trainers in delivery of both adult and child Recovery Toolkit groupwork programmes for survivors of domestic abuse.
12 full sessions of evening delivery of the Recovery Toolkit programme took place at St Benedict's Community Hall in Atherstone on Monday evenings 18:00 hours until 20:30 hours. The programme ran from January until April 2022.
6 women started and 6 women completed the Recovery Toolkit.
Delivery of pilot programme – January to April 2022:
Promotion: Cohort 4 promoted the programme in the North Warwickshire/Atherstone areas to statutory services, including Social Services, to the library, local GP surgeries and health centres. The programme was promoted widely via online forums. 3 existing Cohort 4 members of Cohort 4 requested a place on the programme and 3 women who saw the Recovery Toolkit advertised via the Atherstone Forum contacted Cohort 4 to undertake the programme.
The first delivery of the Recovery Toolkit took place from January 2022 until April 2022 with 6 women survivors of abuse. They completed pre group preparation and risk safety work prior to the first session. All 6 participants completed all 12 sessions, with catch up sessions delivered by one of the programme tutors when COVID-19 precluded a session attendance for 2 women.  They also held a celebratory final session, a meal at a local Turkish restaurant to celebrate successful completion and to reflect on the benefits of attending the programme. This was an important part of the evaluation of the programme content and delivery.
Feedback from Programme Participants:
All 6 participants completed the full programme.
All 6 stated in their feedback forms that they felt a great benefit in completing the Recovery Toolkit
All 6 felt that the programme content was helpful and that the session delivery was excellent.
All reported enhanced self-esteem, self-confidence and a greater understanding in the nature of domestic abuse, particularly the limits on personal freedoms and the nature of coercive control.
The links between the participants has resulted in them agreeing to stay in contact, to arrange social meet ups and to reinforce positive self-affirming statements and positivity. This has continued for 1 month post programme completion and at the point of writing this feedback.
During the programme 2 participants benefitted from other Cohort 4 support. One woman had sessions of individual Cohort 4 counselling arranged at the end of the programme. One woman was moving to a safer home in a new location and Cohort 4 were able to pay for and arrange removal of furniture to her new home. All 3 women that were new to Cohort 4 wish to stay in touch with Cohort 4 post programme completion. They feel a survivor peer led support organisation is very motivating and positive to be part of.
Feedback comments in writing from participants at the completion of the Recovery Toolkit:
"Attending the programme has improved my self-esteem and confidence. It has made a huge difference where I am not afraid no more and can be me as a whole person." 
"I am more confident after completing the Recovery Toolkit with Cohort 4. I am now going outdoors and able to get my fears into some perspective. I also take more pride in my appearance. I feel more me again. This has felt so much more positive than the support I've had with previous dv organisations."
"I now know that I am not the only one who has experienced abuse. I'm not silly for feeling the way I do. The way I have been treated isn't my fault. There is a way out and a way of coping and a way of moving forward. I believe in myself more. I am now taking steps to be in control of my life."
"In addressing different areas each week, it has helped me to compartmentalise my own thoughts and fears rather than being overwhelmed by facing my experienced as a whole."
"Attending the Recovery Toolkit has given me the confidence to finally speak to my grown up children about the abuse I experienced from their father. I would never have done this previously. It will help us all understand each other better."
"Coming here has made me realise I am not a failure and I cannot control everything. If I need help, ask – never suffer alone again. There are people who have been through the same or similar and understand me and are there to listen. I am proud of me now, my self esteem is better and I can see how far I've come and what I want to achieve. Thanks Cohort 4 & all the help you've given me in 4 months to move my family to safety."
 Future delivery of Recovery Toolkit
Funding sessional time to deliver the programme.
Whilst Cohort 4 do make us of volunteer time, especially volunteer Director time, we need to secure additional sessional hour funding if we are to deliver this programme to women in our area on a more regular basis. As a team of Directors, we are working on this issue and have made 3 applications for funding without success to date.  This 2022 pilot delivery was completed with a mixture of reserve funding and volunteer time from supervising Director, Beverley Gilbert.
Future delivery plan:
Cohort 4 were exceptionally pleased with the feedback from the 6 women completing the Recovery Toolkit. The reported increases in self-confidence, self-esteem and in understanding what they had experienced whilst in an abusive relationship exceeded expectations and demonstrated the success of the programme content and the skills in delivering the programme.  As such, Cohort 4 Directors have planned a 2nd delivery of the Recovery Toolkit commencing in September 2022. We will be promoting this from the Summer and hope to double the number of participants attending. The lack of interest from statutory services was disappointing, but Cohort 4 will attempt to be visible to women in their communities through word of mouth, social media and leafleting.
Delivery Team – Two of the trained programme facilitators have postgraduate qualifications specifically in the dynamics of domestic violence from the University of Worcester and are experienced in supporting survivors of domestic abuse. This is helpful in enabling safe delivery of the Recovery Toolkit in the future. It is rare that practitioners have this level of specific qualification in domestic abuse.
One team member has now left Cohort 4 for a new opportunity and the fourth is an experienced mental health practitioner and the whole team is able to work in a trauma informed way with women who have multiple and severe disadvantage. This makes the delivery team strong in capability.
Thanks to our funder Warwickshire PCC, without this funding we would not have been able to afford the training costs to be able to safely delivery the Recovery Tookit.  After prior research, we felt that this programme is a really positive and optimistic programme for women surviving domestic abuse. Following completion of the programme, we can see how it moves them forward and enables hope. The programme is strengths based to unlock the restrictions and challenging thoughts of abusers and of being abused. We will continue delivering the Recovery Tookit as long as we can afford to do so and where we can locate interested participants.
 Beverley Gilbert, Founder, Director, Operations & Risk Manager Cohort 4 
13 May 2022