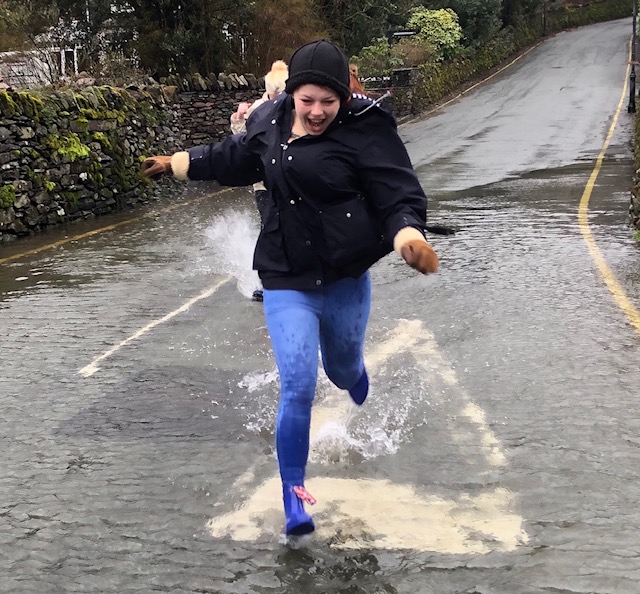 What makes Cohort 4 different for this young woman….time, peer mentoring and doing 'with' not 'to'
One of our Cohort 4 women writes about why Cohort 4 and the peer support she has received feels different compared with the range of groups, interventions and therapies she has previously been part of. A young woman who has experienced some of the most awful situations, who has been left in the community with little help and no idea of where to address her grief and mental ill health.  In 2018 she was directed our way by another caring and supportive Cohort 4 woman (thank you). The list of multiple and complex issues J presents to us with is extensive… but she is now blossoming in confidence and motivation. She now feels part of a community of women. Women of all ages and backgrounds who come together to be 'Women Supporting Women' in North Warwickshire. Keep splashing through the puddles our lovely one!!!
Words of J:  "I honestly don't know how I've fell on my feet finding you. Honestly I've been to a lot of support groups in my 24 years and I've never ever found one that understand me. It's full of people that have nothing wrong with them and they don't understand me. But you do, all of cohort 4 do and you've given me so much. I now have a lot of aunties to introduce my daughter to one day and I have a new family in the group that won't judge us.
Most importantly, you didn't have any reason to help me and yet you did? I'm just a random person trying to get help. I'm not special. i just class myself as a princess witch 🙂 you helped me and you didn't have to. I just turned up and you cared for me.
But seriously, I'll remember you for the rest of my life.  I'll tell my grandchildren all about you and the lovely help you've given me.  I will always believe in cohort4. Even when there's times you might want to give up I won't let you Aunty B, you're the most special person I've ever met and you have a big heart full of love to give I honestly can't thank you enough.
Cohort4 understand everyone is different and no one judges you or makes you feel unwelcome.  Everyone understands that I might cry, I might laugh, I might cry and laugh at the same time, but it's all okay. I can show my emotions. Other groups I been to don't understand any of that. Their workers have either known someone with mental health or learned about mental health but hardly any of them actually have any mental health issues. It makes a difference that cohort4 have all gone through mental health. You all understand me, but know that my experiences are still unique to me.
You all make me feel wanted and loved and you actually help to guide me.
When I've been to other groups, once they're done helping, you have to go.  That's why you're different, because I can come for a long time, not just for a short while. You're not money focused, you're understanding and you've all been through something yourselves, to help you understand who I am. Also your help to me doesn't stop when group does, I can contact peer support when I need it, that's not there with other support and it's important to help me cope day to day with my challenges. Cohort4 is so special to me xxx"
You are not just some 'random person' J, you are very special to us. x