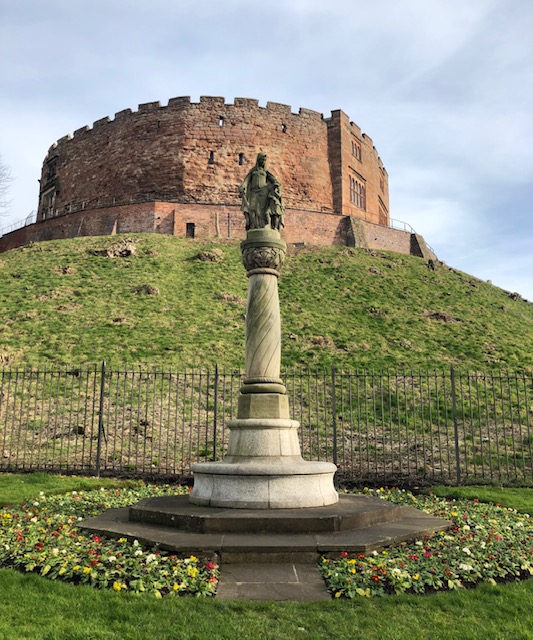 Talking to Statues, communing with the past, ic eom þin freond
I have been communicating with the essence of Æthelflæd, Lady of the Mercians, since I first laid eyes on her Tamworth statue around 48 years ago as a toddler. I had a little chat with her again this week and admired her bedding plants and the ivy growing up the Holloway walls surrounding her garden. I'm a Tamworth woman in my heart and have never wanted to live anywhere else. I have so many connections here, it seems inconceivable to move away from where I belong.
Æthelflæd's statue, at the foot of the castle mound, has been part of my life since my memories began. I've been visiting it as a child in a pushchair, as a school girl, as a teenager bunking off from college and as an adult, as a mother, and as an older woman. Such a beautiful piece of art, and one that still captivates me, She was known as a warrior, a formidable fighter and a woman of immense strength, as well as being just and fair. Nobel characteristics to aspire to. This particular statute was erected in 1913, to commemorate the millennium of her fortification of Tamworth. Standing with her on the plinth is her nephew Æthelstan.  There's a more modern statue of Æthelflæd on the Tamworth Train Station traffic island, erected in 2018 to commemorate the anniversary of her death in the town. Although I love that too, I don't feel any emotional or spiritual connection to it.
The eldest daughter of Alfred the Great of Wessex, she was born in the midst of the Viking invasions. Æthelflæd became Myrcna hlædige, "Lady of the Mercians," on the death of her husband Æthelred in 911.  Described as 'our greatest woman general,' she remains one of the most powerful and influential women of Anglo Saxon Britain. Those recording the period in British history described her as powerful and, "a woman of enlarged soul."   It is over 1,100 years since Æthelflæd died in Tamworth, the capital of Mercia, so her link with our town is long. Her link with me as a woman of Tamworth is only around half a century, so nothing in terms of time. However, it's lovely to look up to such a woman warrier linked to my own town. So, taking to statues? I understand that some commune with nature, trees, with churches and/or with family memorials. For me, I like an occasional chat and nod of respect to Æthelflæd, Lady of Mercia, ic eom þin freond.