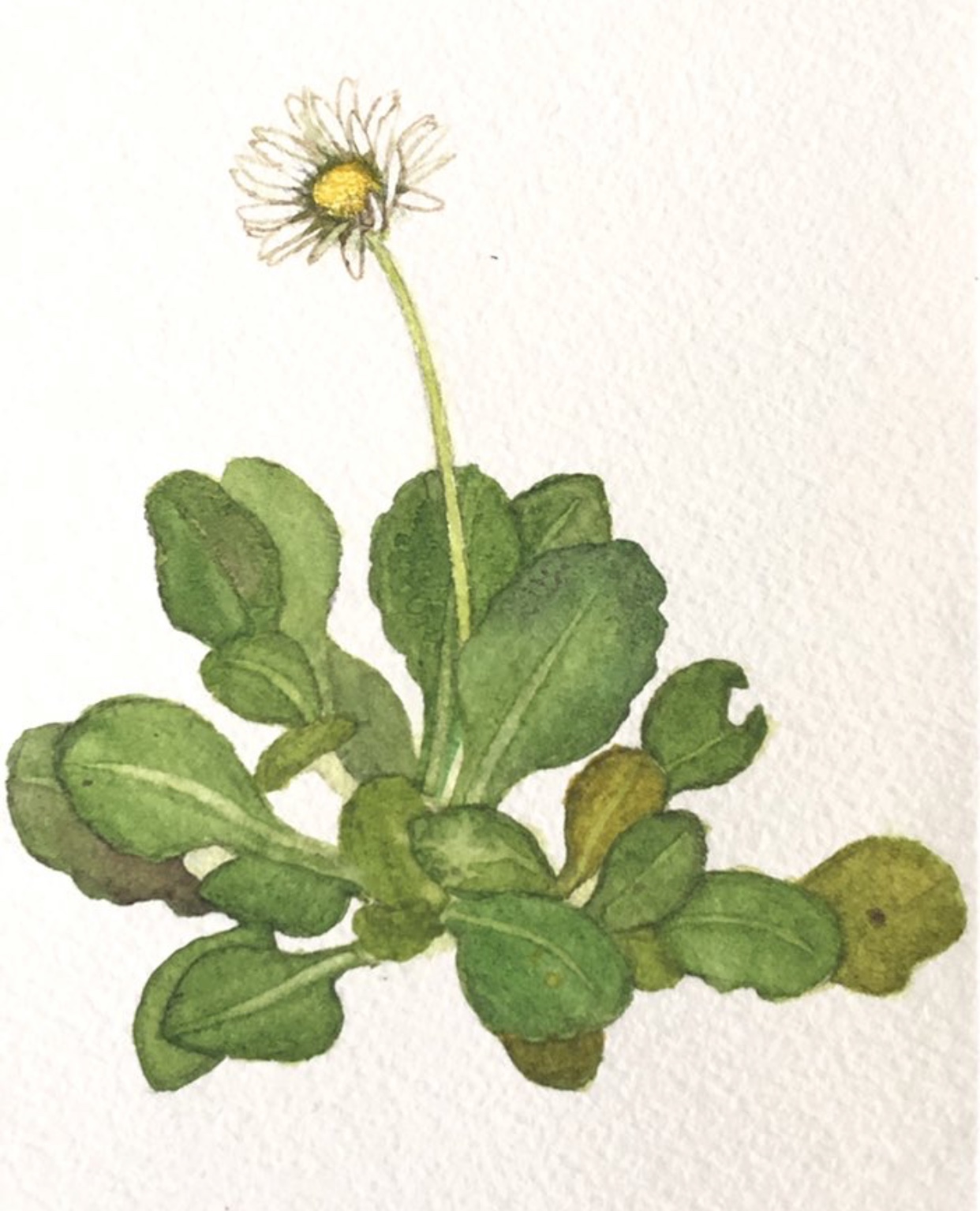 Daisy – Cohort 4 – Our floral emblem; the connection
Daisy – Cohort 4 – Our floral emblem; the connection
The common daisy has been the chosen emblem for Cohort 4 since the organisation first started in 2014. I have been considering the importance of the flower to our group after receiving a real kindness by artist Liza Adamczewski, or 'The Accidental Botanist'. From her 1000 postcards project Liza has given permission for Cohort 4 to use her painting of a daisy as our emblem. This generous gesture means a lot to us a group.
I have been admirer of Liza's work for a while now, as she captures the biodiversity of her natural Welsh Farm. Her paintings are exquisite, and I was fortunate to be able to purchase her 2019 submission to the annual charity postcard art sale – Twitrartexhibit. It was after this that we made contact via the wonderful world of Twitter.
Why the daisy? symbolism
There are many interpretations or meanings attributed to the daisy. Here are some that I choose to explain the link between the flower and Cohort 4.  The Old English 'days-eye' or dægeseage, describes the sunny disposition of the daisy that we are familiar with in the Northern Hemisphere. Considered a weed by many, Bellis perennisis the common European species of daisy and there are many symbolic meanings for this perfect little flower. Cohort 4 is positivist in its approach in offering peer support of women with multiple and complex needs. We look for positive connections with other women, we look forward to developing friendships, in enjoying opportunities together, of enhancing community connections and in maximising our own survival and resilience. The daisy denotes this positivity and brightness.
Norse mythology and Astrological meaning
In Norse mythology, the daisy was Freya's sacred flower, and as such came to symbolise childbirth, motherhood and new beginnings. This appealed to me as Founder of Cohort 4 as most of us have shared histories of these factors, so too the Astrological meaning for the flower:  Family; patience, security; persistence; appreciation; quiet strength.  It is the connection with quiet strength, persistence and security that also drew me to consider the daisy as a worthy emblem of what Cohort 4 would grow to mean. Additionally, the colour interpretations are meaningful;
White; not for purity or chastity, but for the symbolism of purification and healing. Something our women frequently come to us to achieve relating to survival of their lived experiences of abuse.
Yellow; symbolising vitality, radiance, communication and creativity. This denotes the social side of what Cohort 4 does; the listening and discussions, the craft and art therapy and in nurturing the inner strength of the women who come to our group.
Victorian language of flowers & connection to Cohort 4 women
In the Victorian language of flowers, the daisy represents acceptance. This too is an essential element of our organisation; accepting each woman for who she is, of being non-judgemental and offering the hand of peer support and friendship. We can work with most women who come to us, and each one is accepted where it is safe and responsible to accommodate her within our groups.
For me, the daisy is much maligned as a common, inconsequential flower. Bruised underfoot, mown down and mostly ignored.  Yet, here is a flower that perennially keeps rising, it resists attempts to diminish it and for me it represents hope. The daisy is like our own Cohort 4 women, sometimes bruised but never crushed. It's tiny, petalled perfection in the daisy's upraised flowers represent the beauty within each woman at Cohort 4.
Cohort 4's flower symbol is the Daisy. Thank you Liza Adamczewski.
Beverley
23 June 2019