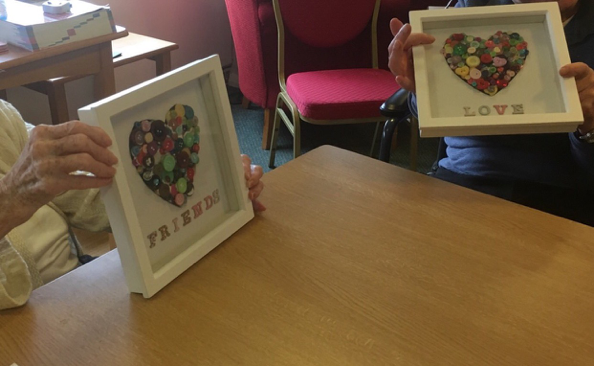 Classic Gems – craft groups for older women in our area
Women Supporting Women
The Classic Gems 6 month pilot project funded by the Harry Payne Fund aimed to provide a series of craft sessions for women experiencing dementia or loneliness in care home facilities. The project was to be delivered in a disadvantaged neighbourhood of our geographical area by our Cohort 4 women themselves.
The women of Cohort 4 were seeking to bring some of the wellbeing of learning new crafts to a new group of individuals in their community. They selected to help older community members as it was felt that this age group were often overlooked when it comes to creating and craft.  There had been some press and social media coverage of the issue of old age loneliness and Cohort 4 had discussed this within the group.  Loneliness is something our women have faced themselves at certain points of their lives. The Care Home Manager, who herself participated in the craft sessions wrote;
"The impact your visits have on our residents has been significant. As you know through each session the residents faces come alive. They enjoy the one on one time with you, watching you create and trying to re create… I'm amazed how some of their own creations have turned out…  the residents with dementia who join in…..even on a basic level are so proud of their creations, and it's lovely to show their families ….. we have used some of the designs for bingo prizes.
Your visits create a buzz. I have residents whom ask when the next session is….all in all a very successful ….we look forward to hopefully continuing  into 2017. 
Thanks to Kristy, Clare and everyone who contributed to Classic Gems!