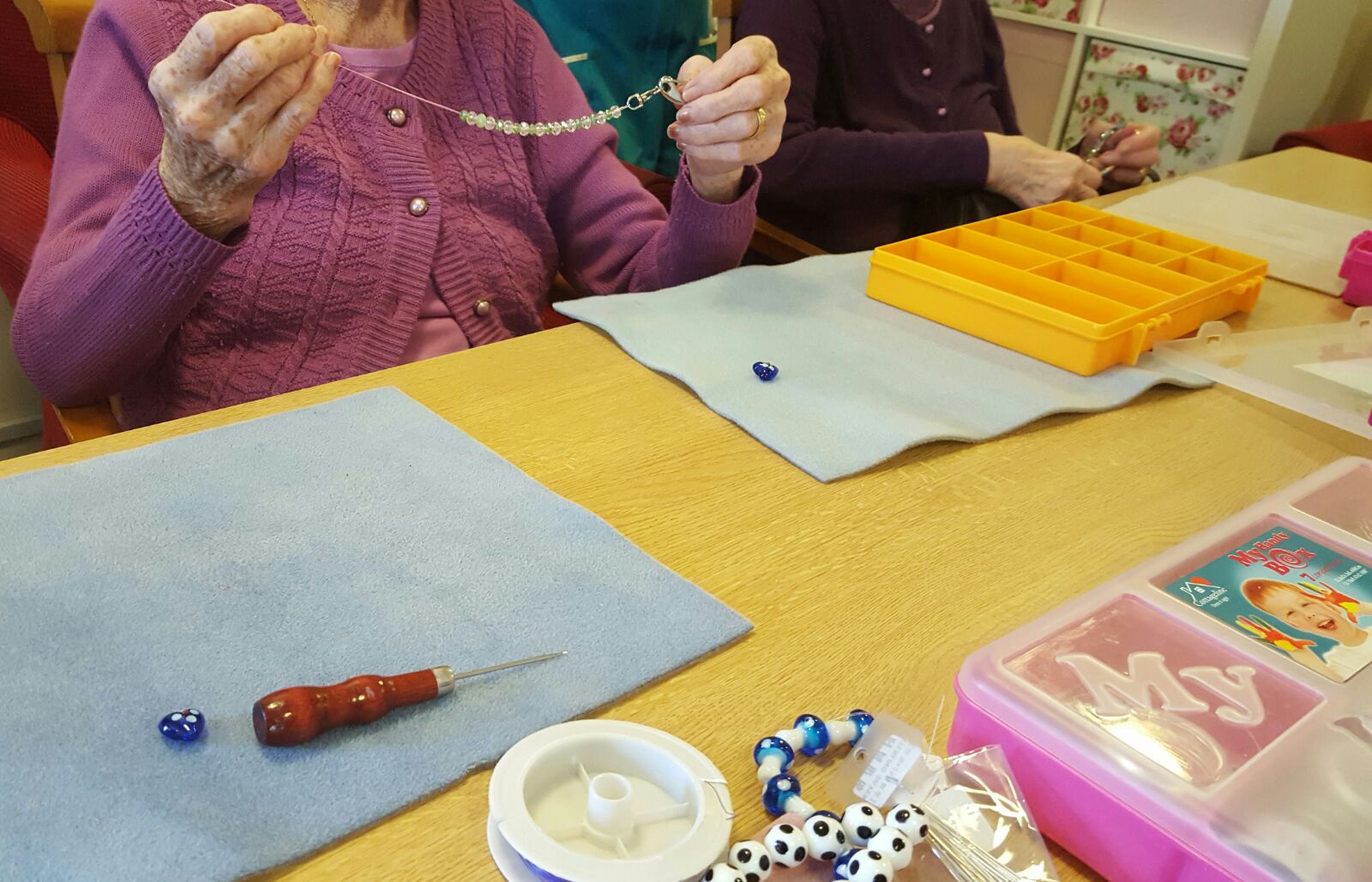 Classic Gems: a new Cohort 4 project that warms our hearts
Classic Gems: a new Cohort 4 project that warms our hearts
Following on from the success of Sparkles, North Warwickshire Gems and Little Gems, Cohort 4, last week launched a new venture called Classic Gems. Classic Gems is a project that delivers jewellery and craft workshops to older people with the aim of reducing isolation and loneliness, and to promote inclusion, raise self-esteem and provide a sense of community.
Beginning a new project can sometimes feel quite daunting, particularly when you are appealing to a new audience. There is always that uncertainty of how well your efforts may or may not be received. However, we felt that Classic Gems has without a doubt been one of the most heart-warming experiences we have encountered so far.
We approached a care home in Nuneaton to discuss the possibility of conducting a few pilot sessions with the residents to see if the project would be successful. The staff were more than enthusiastic, welcoming and very impressed after hearing what Cohort 4 was all about. They explained to us that the residents were all at varying stages of dementia and that something as interactive as Classic Gems would benefit them greatly.  What we didn't realise was just how much it would benefit them.
(*All names changed to protect the identity of participants)
Betty is a wheel chair user, a resident who we were told kept herself isolated in her room and barely spoke for anyone.  She was informed of the jewellery making workshop and agreed to take part. However, staff were unable to ascertain how readily she would participate. Not only did Betty actively take part in making her own bracelet, she chatted away to us as we helped her, telling us all about the jewellery she was wearing that day and where it had come from. She even made a bracelet to match the much-loved necklace she was wearing.  Staff members were astounded at how chatty she was and how much joy she got from doing the activity.  Amazing!
Edith, a 94-year-old woman, thoroughly enjoyed every minute from the moment we walked into the room, greeting us so warmly you could not help but love her instantly. Unbeknown to us, Edith loves all crafts and was very creative in her younger years. Unfortunately, she doesn't have a great deal of opportunity to participate in crafts since moving to the care home, something that we can absolutely make a difference to. After the session Edith showed us the wonderful and very fine tapestry art she had done herself as well as photographs of her family and treasured colouring books. Words cannot quite express how it felt that, after only two visits to the home, this lovely woman liked us and trusted us enough to share a little bit of her life with us.
And then there was Bill, our only male participant at present. I would describe Bill as probably the most excited person to be taking part in Classic Gems. He told us straight away he wanted to make something for his wife, Joan, who comes and visits him every day. Bill told us that Joan's favourite colour is green so with a little bit of assistance, Bill made a lovely sparkly green handbag charm, with a glass heart attached to the bottom. Not long after he had finished, Joan came into the room to see him. The moment he saw her his arm shot up in the air, holding the handbag charm in his hand. "Joan, Joan" He called out, "Look what I've made for you Joan, It's green, it's your favourite colour". He could not wait to give her the gift he had made. This little bit of affection brought a lump to our throats. We had to quickly busy ourselves with the other members before the tears started to flow. It was just so inspiring to see how a simple thing could bring others so much pleasure. And when we thought we couldn't be more moved, we each received a heartfelt thank you and a kiss on the cheek from Bill as we left.
These are only just a few examples of how well individuals took to taking part.  Not only was Classic Gems a success with the residents but also with staff members and resident's relatives. The staff were so impressed with our jewellery making skills they asked if they could join in and make a handbag charm for themselves. One resident's daughter spoke of how difficult it was sometimes coming to visit her mother and struggling to be able to communicate. Joining in with Classic Gems and making a bracelet with her mum not only made the visit more engaging but had some meaning to it too as it evoked memories of how they both used to love jewellery and anything sparkly when they went out together. This was an aspect of the project that we didn't even anticipate, relatives being able to reconnect with their loved ones through doing something together.
Providing older people with dementia the opportunity to keep active with crafts that are interesting and engaging is significant in helping to encourage a sense of purpose, to feel valued and to be able to express emotions. The care home manager assured us that even though some of the residents may have forgotten taking part in the activity as soon as being returned to their room, the feeling of accomplishment, the feeling of pleasure of having done something and of relating to others remains with them for a long while after.
The impact delivering the Classic Gems project has been hugely positive. To know that we are doing something so valuable gives us an enormous feeling of achievement.
Kristy O'Dowd, Director and Project Manager Cohort 4